Chocolate Swan as Seen on itv Emmerdale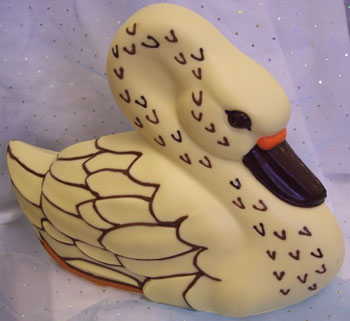 White chocolate swan decorated with milk, dark and coloured chocolate. A truly stunning table centre piece. A talking point you can eat!
Weight 1kg 150g. A lot of chocolate!
Dimensions
Height 235mm
Length 300mm.
Width 110mm.
£35.95 each...Add to Cart
We recently handmade and supplied 50 of our popular white chocolate swans for itv Emmerdale. Below is a picure of the finished swans in our production area ready to be boxed and shiped to itv.
You'll find more information on our Emmerdale page